Heidi Kuhn, Roots of Peace founder, speaks during an unveiling ceremony for The Leonardo Peace Garden in Salt Lake City on Tuesday. (Kristin Murphy, Deseret News)
Estimated read time: 4-5 minutes
SALT LAKE CITY – The Leonardo museum unveiled a new Roots of Peace Garden on Tuesday, promoting education and awareness of children killed by land mines and the effort to rebuild communities through agriculture.
"I think this garden is a garden of hope," Roots of Peace CEO and founder Heidi Kuhn said. "With sunlight, water and a human hand, we can cultivate peace through agriculture."
Kuhn was inspired in 1997 by Princess Diana's work to bring awareness to the vast number of land mines across the world. After the princess of Wale's death, Kuhn launched Roots of Peace to show "the world that these seeds of destruction that we plant in our one Mother Earth, prevent the cultivation of a harvest of hope."
Today there are more than 60 million land mines in 60 countries around the world. Roots of Peace's mission is to get rid of these land mines and has transformed minefields in Afghanistan, Angola, Bosnia-Herzegovina, Cambodia, Croatia, Iraq, Israel, Palestine and Vietnam into farmlands.
Kuhn's work in Afghanistan started over 20 years ago when the organization removed 100,000 land mines in the Shomali Plains and introduced grapevines to the area. Roots of Peace has planted over 6 million fruit trees in all of Afghanistan's 34 provinces, including 1.1 million fruit trees in 2022 alone, according to a press release.
During a press conference Tuesday, Kuhn told the story of how she and her husband were invited to dinner by the Taliban recently.
She was worried about how the Taliban would react to her and her work in the country. She said they told her, "Mrs. Kuhn, we don't look at you as a woman. We look at you as a mother who is feeding our children. You have full permission to work in our country."
Kuhn said as the United Nations' charter opens, she hopes all can call forth for an 18th sustainable development goal of removing land mines: "For without the removal of a land mine, the other 17 are impossible to build upon."
The Leonardo executive director Alexandra Hesse said the museum highlights innovation and creativity in its exhibits. They first connected with Roots of Peace when they had a "Mines to Vines" exhibit in 2019 that showcased Kuhn's socially innovative solution of de-mining and regrowing.
"We all want to build a better world, and Heidi is doing it in her own way. We wanted to extend that message by having a permanent garden here," Hesse said.
Although Kuhn is a California resident, she shared her gratitude for Gov. Spencer Cox's efforts embracing the Afghan refugees in Utah and giving them a home.
In recognition of all the work Kuhn has done in Afghanistan, all Afghan families in Utah can now receive free admission to The Leonardo so they can continue to build their lives here, Hesse said. Kuhn has a close relationship with the Afghan people, and she wanted to leave this gift behind for them.
"This Roots of Peace Garden from the heart of Utah, from the heartland of America, is the beginning of that river of life to turn seeds of hatred into seeds of love," Kuhn said.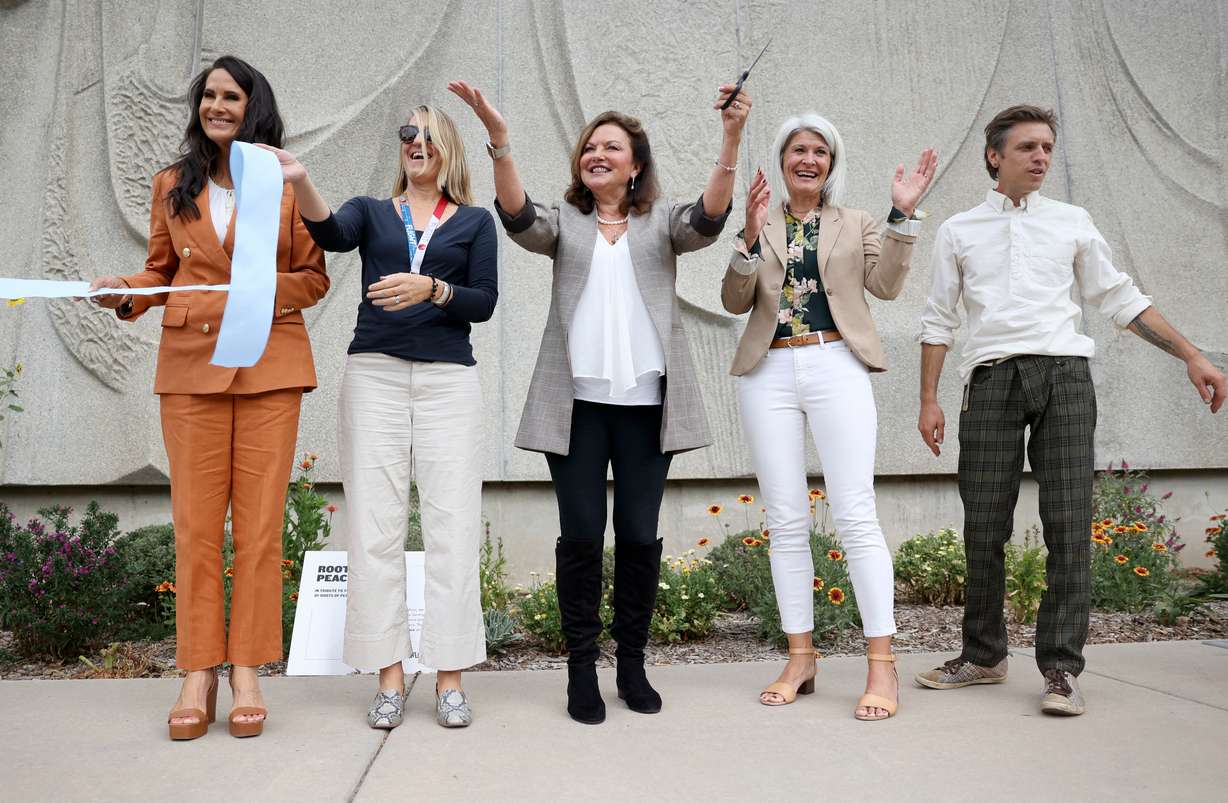 The peace garden is sponsored by the doTerra Healings Hands Foundation.
Missy Larsen, vice president of Healing Hands, said she remembers visiting the International Peace Gardens in Salt Lake City when she was a kid. She loved how it was a beautiful way people came together and said this new peace garden will fit perfectly in the city.
Larsen said doTerra Healing Hands is all about empowering people and so she was excited when The Leonardo reached out in the spring about working together on this project as she felt they had a great connection to Roots of Peace's mission.
Heath Brodie was the head fabricator of the garden and he said this project is part of a longer term project; the peace garden is the start of a "grand masterplan" for the gardens of The Leonardo.
"What we're trying to do is put down our roots and grow this garden over time," Brodie said. "We need to take time to get to where we want to be, but if we all work together, we will get there."
Light rain fell during the press conference, and Kuhn said, "I feel these are the teardrops from heaven for all the children that are maimed and killed by land mines each year." She hopes that her legacy in life is to eradicate land mines from the face of the earth.
Roots of Peace celebrated its 25th anniversary on Thursday in Napa Valley where it planted an olive tree. Kuhn said she wants to go around the world planting peace and is honored to have a peace garden in Utah named after her organization to stand as a symbol of striving for global peace.
×
Photos
Most recent Salt Lake County stories
More stories you may be interested in